QR Code Labeling Program
TRADESMEN OF NEW ENGLAND'S INNOVATIVE HVAC DATA-TRACKING SYSTEM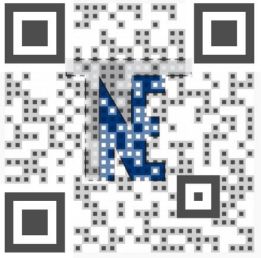 OUR UNIQUE QR CODE PROGRAM
Tradesmen of New England is excited to offer a unique QR (Quick Response) Code labeling process! The process begins with our especially weatherproof labels that are affixed to serviced equipment, as well as smaller, user-friendly labels on appropriate thermostats and locations within the facility. These codes will then provide direct access to our customer portal, offering a comprehensive view of this equipment's service record and information. If you are interested in learning more and joining us in this program, please feel free to contact us!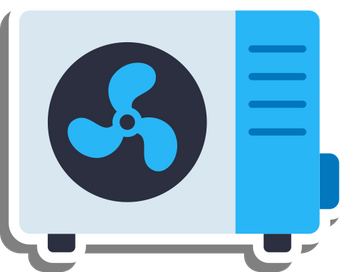 WEATHERPROOF LABELS
Current clients of Tradesmen of New England may be familiar with our customer portal system, Salesforce. We transitioned to this system several years ago, and have found tremendous success and enhancement of our customers' experience accessing information about their HVAC and building automation systems. To access this customer portal, TNE implemented a unique QR code labeling program, which replaced our outdated previous system. Today, whenever one of our technicians visits a site for any services, these weatherproof labels are affixed to various components of your building's system for easy access to important system data, including a comprehensive service record.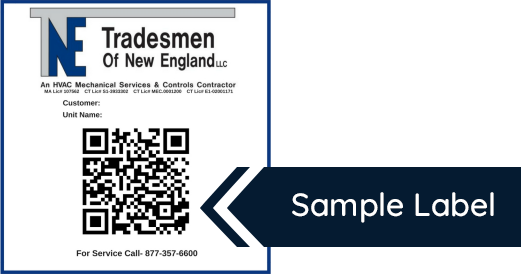 WEATHERPROOF LABELS
Commercial HVAC & Chiller Systems
Plumbing, Welding, and Pipe-Fitting
Commercial Electric
Building Automation Systems
Why are We Using QR Codes?
By allowing TNE to label your equipment with these special QR codes, our customers and technicians can scan the code and immediately have access to the complete history of the labeled equipment. This allows for our techs to better and more efficiently diagnose and track services, while simultaneously allowing you, the customer, to accurately report service calls and maintain an awareness of your building system.
For example, when we label an indoor thermostat, a quick scan of the code allows you direct access in the customer portal to log a service call or see the unit's maintenance history. Meanwhile, back in the TNE office, we will know exactly what unit is having an issue, who last serviced the unit, and appropriately dispatch the right technician with the proper tools to solve the problem.
Schedule Your Building Automation Service with TNE Today
Take advantage of this groundbreaking and efficiency-boosting technology by contacting Tradesmen of New England today! Get started by scheduling a building assessment today.