Proudly Serving New Haven, Connecticut
MECHANICAL SERVICES & CONTROLS CONTRACTOR
Quality Service for Your Heating and Cooling System
For nearly twenty years, the Tradesmen of New England have been serving the New Haven area with their Top Rated Local® services. We assist New Haven businesses and organizations by installing, maintaining, and repairing the best building management systems for their businesses. We believe HVAC solutions for each building should be tailored to the specific needs of its structure and the business.
When we partner with you, you not only will be receiving the most professional HVAC service, but when your heating and cooling system needs repair, we use only the highest-quality parts and those appropriate for older HVAC systems. Once you become a client, you will have your own customer portal where you can easily set up appointments online and have the opportunity to use our QR Code Program. This unique program makes maintaining your heating and cooling system and keeping it running at its optimal performance level an easy process.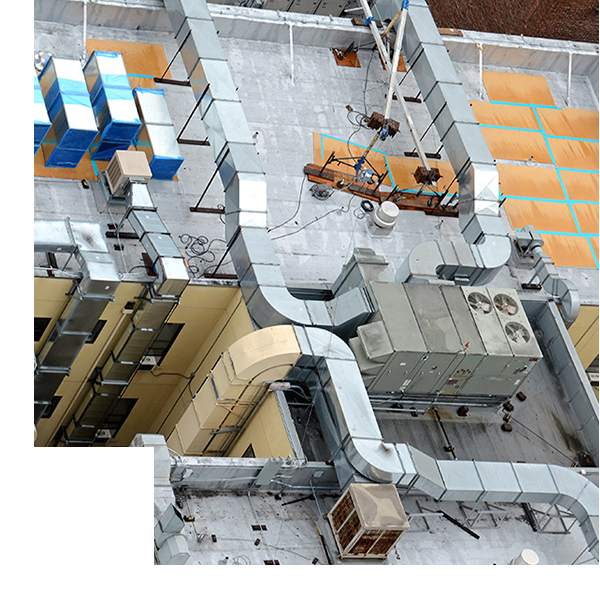 HVAC Services We Offer Include:
Planned Maintenance - Our preventative maintenance for your HVAC system will not only preserve the life of your heating and cooling system, but it will also help cut energy costs, keeping your system functioning at its best.
Building Assessment - We offer building assessments so you can spend more resources on your business and less on energy issues that can be easily resolved with our building management system solutions.
Building Automation - Each building and business's needs are unique. When we install an HVAC system, we work with you and your budget, so you can have the heating and cooling system that works for you.
Electrical Services - Many energy issues can be solved by addressing electrical system problems. We look at the whole picture of your HVAC and electrical system and troubleshoot for an overall optimal energy-efficient building management system.
Emergency Service - We are available night and day for unforeseen issues with your HVAC system. We want to keep your business running and will go the extra mile for our clients.
Check Out Our HVAC Blog
Read our blog regularly and keep up-to-date on HVAC topics that concern you and your business or organization! We stay current on not only HVAC cutting-edge technology, but also in regards to updated care solutions for older systems.
Contact Us to Speak to an HVAC Tech Today!
Do you have any questions about how the Tradesmen of New England can help your building management system run at its best? Would you like to partner with us? Contact us today! We look forward to hearing from you in New Haven.