Commercial Electrical Services In New England
ELECTRICAL & HVAC SOLUTIONS
ELECTRICAL PROJECTS, SERVICE, AND MAINTENANCE
Tradesmen of New England's electrical services specialize in electrical projects, repair, and maintenance. Our extensive experience in the electrical HVAC industry allows us to provide our customers with energy-efficient solutions for all of their building systems. No electrical project is too big, too small, or too obscure for us to handle. Our years of collected knowledge in the electrical field makes us uniquely qualified to handle any project that your commercial pace needs to be successful and efficient.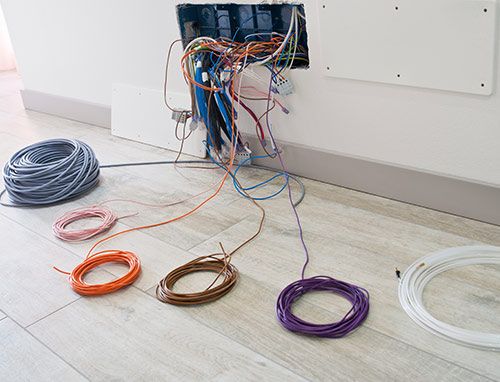 TRADESMEN OF NEW ENGLAND'S ELECTRICAL SERVICE EXPERTISE INCLUDES:
Electrical projects, maintenance, and repairs
HVAC electrical systems
Automated control and programmable logic computer (PLC) system service and repair
Automated machinery troubleshooting and repair
Infrared Thermography, allowing customers to visualize, identify, and record high-temperature occurrences within electrical systems
Electrical power service and branch circuit installation
Lighting systems repairs, installations, and modifications
Emergency electrical systems
Telephone data network wiring
Complete electrical construction and engineering design for building electrical systems
Commercial Electrical Services in New England
Understanding the electrical operations of your business' commercial space is more than just understanding the basics of cooling and heating — it's understanding and utilizing an energy management system to find potential problems and hazards. Whatever the electrical project may be, Tradesmen of New England is prepared to provide all of the maintenance, repair, and replacement services necessary.
The overall safety of your commercial space is our primary focus, and it is why you should consider contacting the professionals at Tradesmen of New England. We're ready to examine your current energy management systems, as well as assess what needs to be done to optimize your energy performance. Allow us to find the electrical problems with your commercial space before they become hazards that could cost you thousands of dollars in losses.
Contact Tradesmen of New England Today
Since 2003, TNE has been providing superior electrical services to commercial businesses all over New England. The breadth of our electrical knowledge allows us to repair, maintain, and install just about any electrical system or solution that your business needs to function at maximum efficiency, reducing electrical costs to you and stopping problems before they have a chance to become destructive. Contact us today to speak with one of our electrical specialists, who will be more than happy to answer any questions you may have, and to set up an appointment to assess the electrical needs of your building. You can also view our building automation services here.